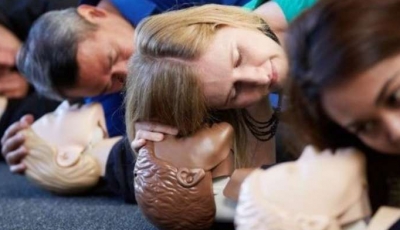 11 Nov 2022
First Aid Level 1
This basic one-day first aid course is the Worksafe New Zealand minimum qualification requirement for a workplace first aider, and can also be used as a refresher for your qualified first aiders. Includes NZQA unit standards 6401 and 6402. A First Aid Level 1 certificate is valid for 2 years upon successful completion.

Content Covered:
· Scene assessment
· Chest pain e.g heart attack
· Safety
· Broken bones
· Soft tissue injury
· Stroke
· Bleeding
· CPR
· Dislocations
· Burns
· Asthma
· Seizures
· Diabetes
· How to use an AED (defibrillator)



Attendees who fail the course are not entitled to a free re-sit.




NB: This course is reserved for GETBA members only.
By attending this event, the participant consents to being recorded and photographed related to the event, and hereby authorizes GETBA to use the material in any form without further consent from or payment to the participant.

Refund policy: GETBA offers a full refund if the booking is cancelled in writing at least 48 hours before the event. If the cancellation is received after this deadline a refund will not be offered. GETBA reserves the right to cancel an event due to low enrolment or other exceptional circumstances. In such circumstances, all participants will be offered a full refund. If an event is postponed, GETBA will give participants the option of transferring to the new date or receiving a full refund.